THE PAST IS THE PRESENT IS THE FUTURE, 2021
For non-Western cultures time is not linear but rather a spiral or a cycle, in the present tense we become the embodiment of both our ancestral histories and our projected futures. This group exhibition brings together photographic and moving image practices to explore the way in which time is ever present and how it is woven throughout our connections to culture, people and place.
Curated by Talia Smith
Images courtesy Granville Centre Art Gallery and
Document Photography
EXHIBITION IDENTITY
---
DESIGNING WITH(IN) THE MESS, 2021


Designing with(in) the mess is a continuation of my master's research project. Collaborating with Dr Fayen d'Evie, I helped to deliver a project for RMIT's Experimental Typography students in Semester 1, 2021. The students were tasked with designing risograph posters in response to design practices they felt were under-acknowledged in history and industry. A selection of the posters are shown here. The results from this workshop were presented at the Designing With(in) the Mess lecture series at The Capitol as part of Melbourne Design Week.

EXPERIMENTAL TYPOGRAPHY WORKSHOP
---
SITTING WITH THE MESS: MAKING SPACE IN GRAPHIC DESIGN TO ADDRESS ISSUES OF GENDER AND DIVERSITY, 2020
Sitting with the mess is a research project for the fulfilment of the Master of Communication Design degree at RMIT University in Melbourne. The project investigates how designers are making space to address the inherent gender and cultural biases present in the canon of graphic design and in the wider industry, which perpetuates inequity. This research project comprises a series of interviews with design educators and designers, as well as the development of a practical workshop for designers and students to engage with messy design history through the construction of crossword puzzles.

While this website houses the completed project for my master's degree, I must acknowledge that this is an ongoing project and a constant work in progress. It is a space that will shift and change over time as I learn, discover and talk to more people. The crosswords I developed with designers Dennis Grauel and Zenobia Ahmed are just one approach to exploring the complexities of graphic design history and its hidden narratives. There will be more approaches in the future. This project sets out to reveal the many ways designers are working to tackle some of the larger structural problems present in design education, design history, and who and where we place value. View the project at sittingwiththemess.work

MASTER'S RESEARCH PROJECT
---
THE PRINTED BOOK, 2019
This 350 page 6x9 inch trade book brings together a collection of thoughts, ideas, conversations and reflections on the practices, history and approaches to typography, specifically within the area of book design. A rewarding pursuit for any designer, the long and rich history of the book offers a multiplicity of points for exploration, criticism and shifting ideas on how one is designed. Beginning with technical approaches to typography and publication design, through to critical theories, and the future potentials for book design, this book covers some—but far from all—great texts on the many meanings of the printed book, it's history and function in an increasingly digital context. It exists as a guide for students and professionals alike, and while it does not capture the entire history of such a layered object, it does however provide an opportunity for reflection and should encourage you to explore further.

Supervised by Ziga Testen
PUBLICATION DESIGN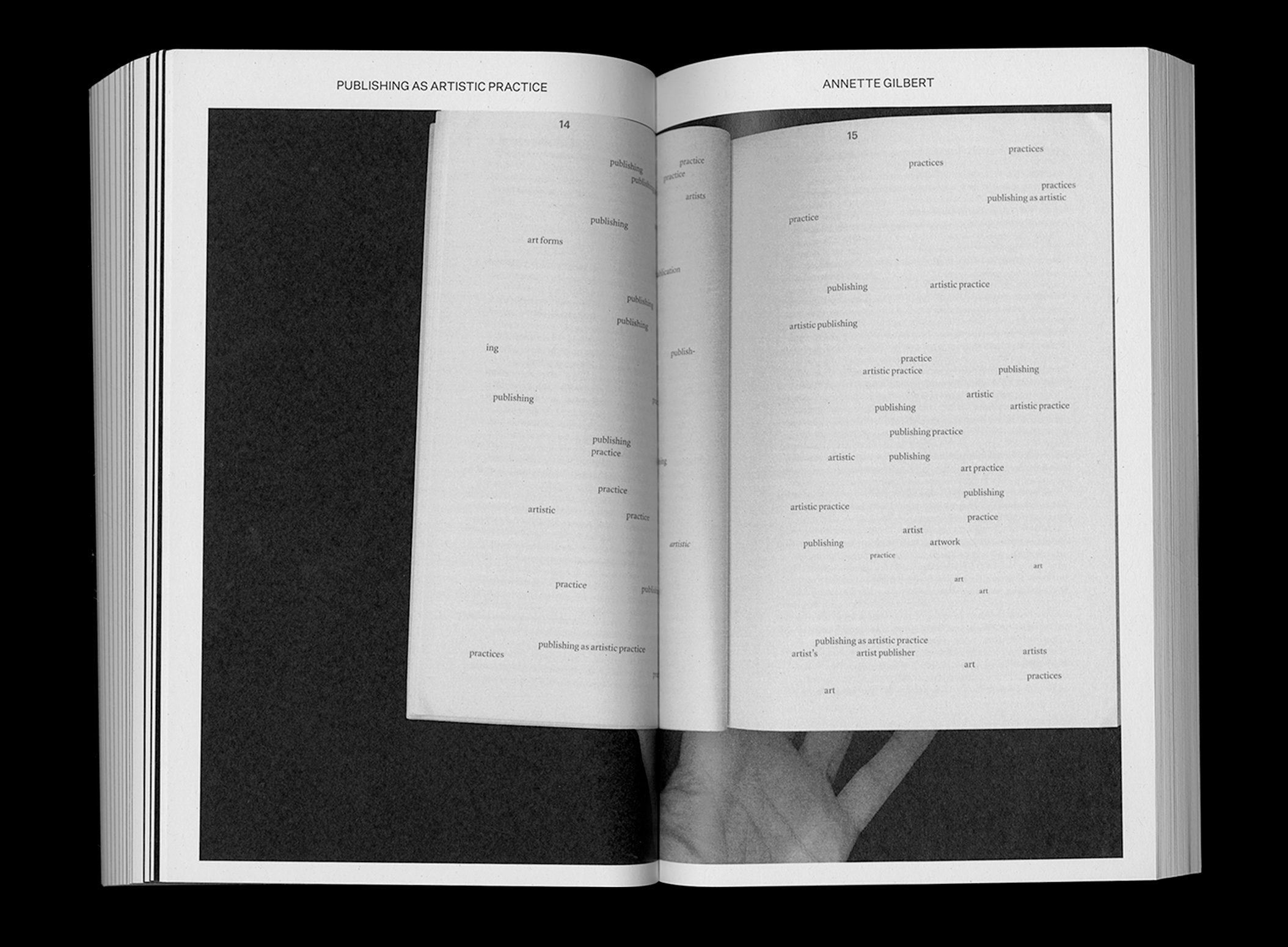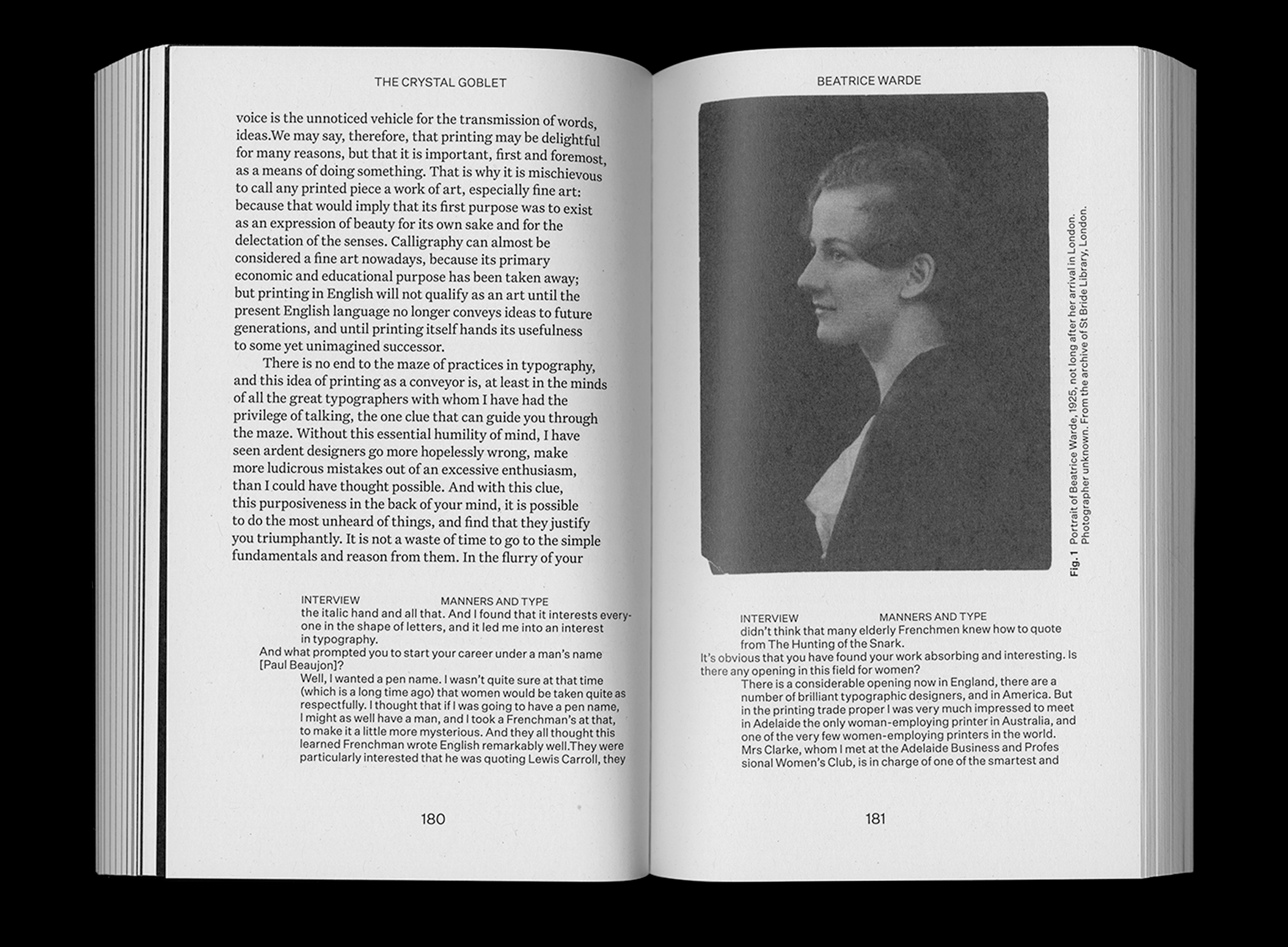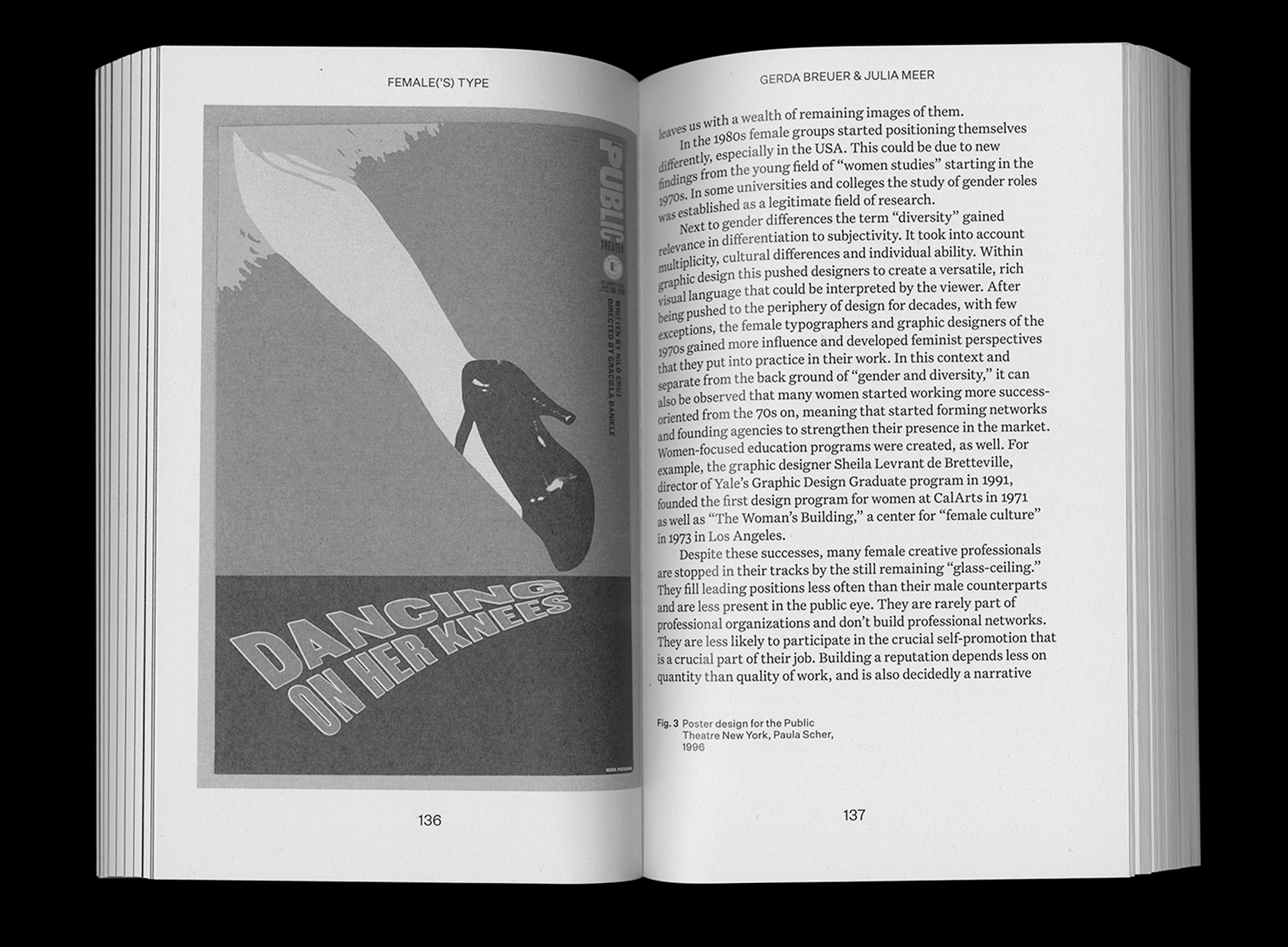 ---
VERGE GALLERY, 2020
IDENTITY
Verge Gallery at the University of Sydney (USyd) is a public art space dedicated to the presentation of Contemporary art practice.

Verge Gallery's key focus is to present interdisciplinary exhibitions from leading and emerging arts practitioners while providing the University of Sydney students, academics and visitors an arena for critical dialogue and response.

---
MORE THAN ALL THE OCEAN BETWEEN US, 2019
Curated by Talia Smith, More than all the ocean between us is an ongoing research and curatorial project that investigates early career Pacific heritage artists who work with time based practices. In this first iteration six practitioners and five writers of Pacific Island heritage have been invited to discuss their practices in an attempt to map what is happening at an early career level and to piece together the developments of photographic and video practices from those that paved the way. As Pacific people we have claimed photography as a tool for sharing our stories, we are now the authors of our own histories and this project aims to celebrate, highlight and critique what is being shared.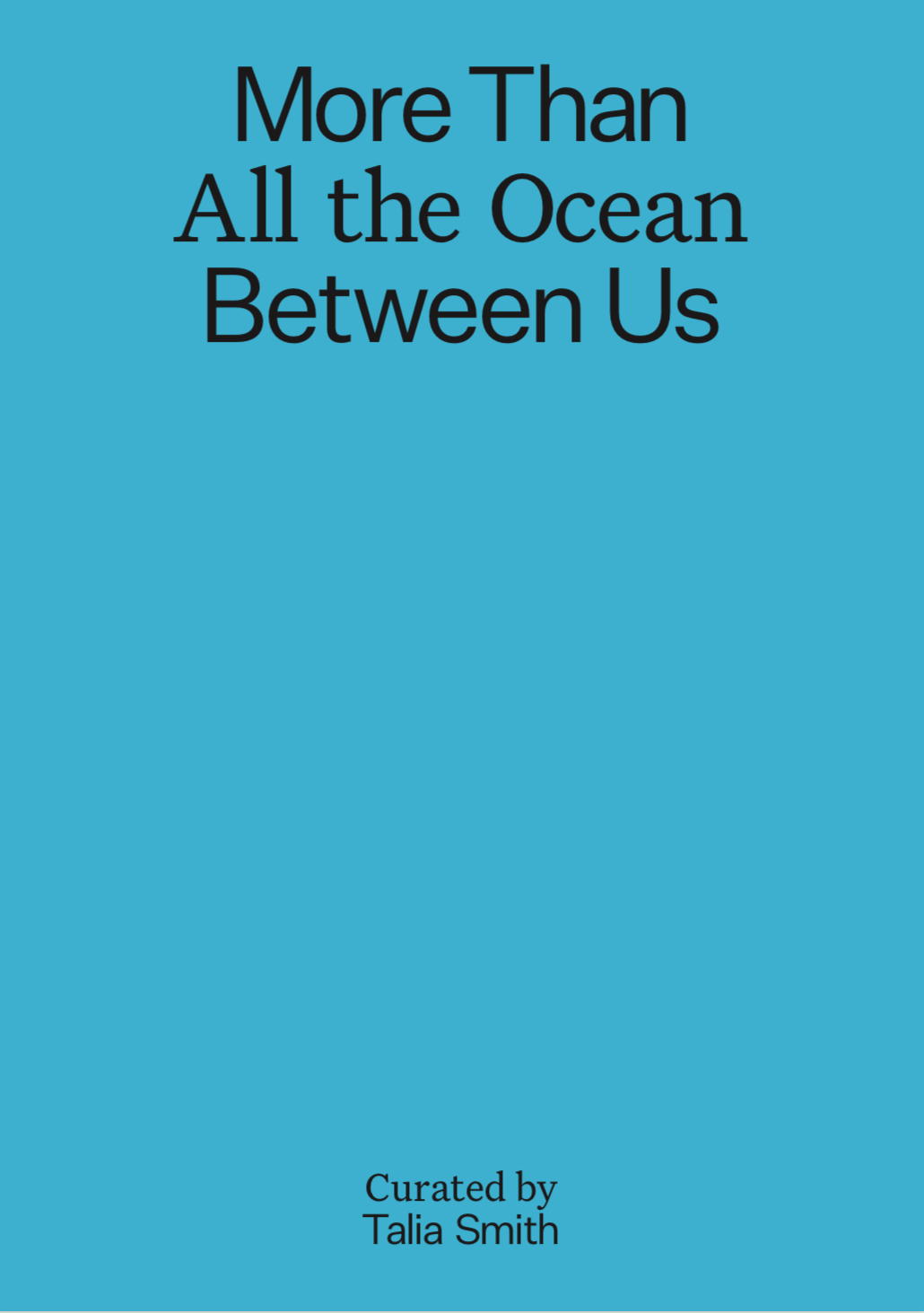 EXHIBITION CATALOGUE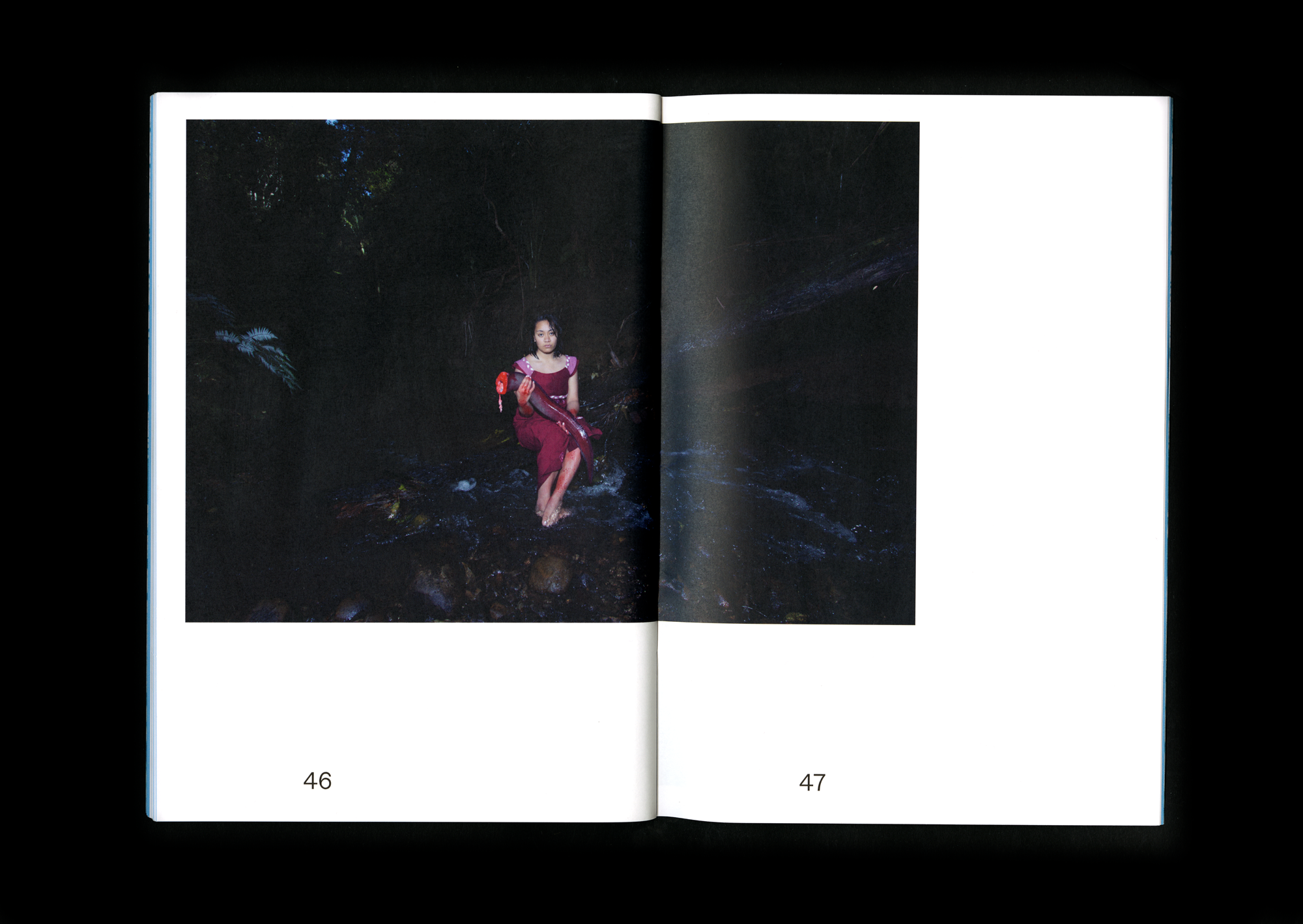 ---
THE DIGITAL SPACE, 2019
Publication design and interview with digital artist Sophie Penkethman-Young. 32 pp. Printed in CMYK + Silver.

PUBLICATION DESIGN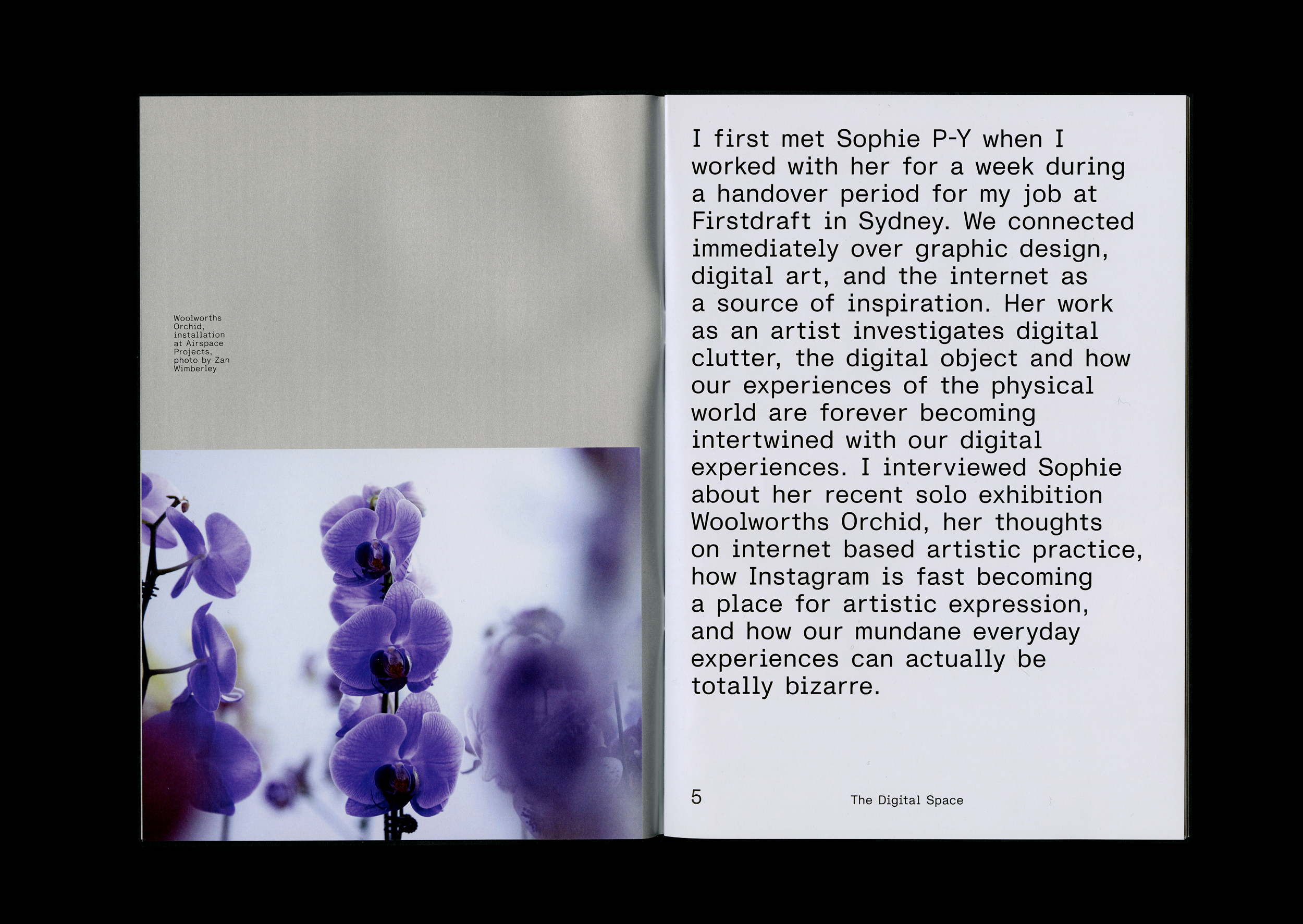 ---
AROUND THE OUTSIDE: FEMINIST SPECIFICITIES, 2018


This poster and digital flyer was designed for a lecture series that took place at emerging arts space Firstdraft. The Feminist Specificities edition of Around the Outside explored expanded forms of feminism in contemporary art. Around the Outside is a serial event that brings together thinkers and practitioners from the arts, academia, and beyond to share knowledge and engage in critical reflection.

EVENT POSTER
---
MINDPLAY: LES MASON, 2020
Les Mason Mindplay is an immersive virtual exhibition exploring the prolific career of the late American/Australian graphic designer Les Mason. Mason's work has been instrumental in introducing graphic design as a profession in Australia, and establishing the foundations of what we understand as design studio practice today. This digital exhibition has been curated, designed and developed by RMIT's Master of Communication Design students. In partnership with the RMIT Design Archives, the students spent semester 1 2020 looking at Mason's work to retell and celebrate his story in a new, digital context.

I was responsible for the graphic design and development of the website's Perspectives pages, telling various stories of Mason's life and career. The full project can be viewed at mindplaylesmason.com.

Supervised by Fayen D'Evie.

VIRTUAL EXHIBITION


---
ASTRAL PEOPLE, 2019–2020


Tour artwork for various international electronic artists, presented by Astral People.

1. John Talabot (ES)
2. Laurel Halo (DE)
3. Omar S (USA)
4. Objekt (DE)
5. Objekt (DE) Sydney
6. K-HAND (USA)
7. Park Hye Jin (USA)
ARTIST TOUR POSTERS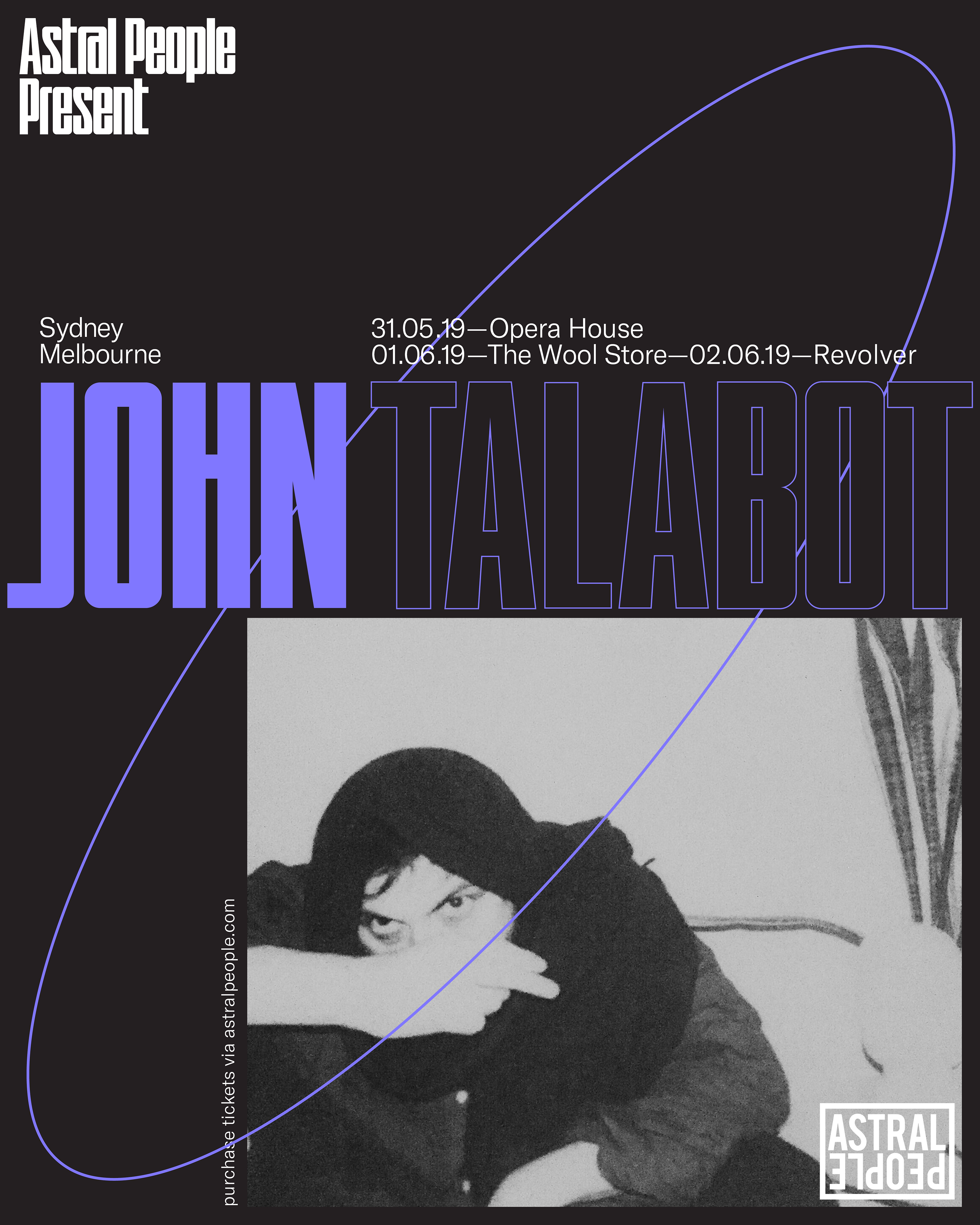 ---
INDEPENDENT GIGS

1. Artwork for UK based DJ Danielle's 2020 Australian tour. This event was cancelled due to COVID-19.

2. Angel Music Bar: Jasmine Guffond, Jannah Quill, Bayu, Makeda, Drug Vicar 2019

TOUR ARTWORK

---
RUNWAY JOURNAL, 2019–2020
Runway Journal cultivates and preserves experimental practice on their digital platform. The Journal commissions and publishes critical and artistic works that respond to thematic callouts and engage with current threads of Australian and international contemporary art. The Journal is a resource for the exchange of knowledge and ideas. Through mentorship and collaboration, Runway carves out an independent space for its contributors, which, reflective of the experimental realm in which it exists, cannot be defined by medium and is constantly evolving.
From July 2018–July 2020 I served as graphic designer on Runway Journal's volunteer-run board. During this time I designed numerous issues and worked with Sophie Penkethman-Young to develop a new identity and website for the Journal.
RUNWAY JOURNAL ISSUE POSTERS
Issue 39,
Oceans
, guest edited by Athena Thebus, Issue 38,
Spectacle
, guest edited by Natasha Matila-Smith.
IDENTITY, WEBSITE & ISSUE DESIGN
---
ISSUE 41:
LOVE
, GUEST EDITED BY MANISHA ANJALI DESIGNED AND DEVELOPED WITH SOPHIE PENKETHMAN-YOUNG AND ISABELLA SANASI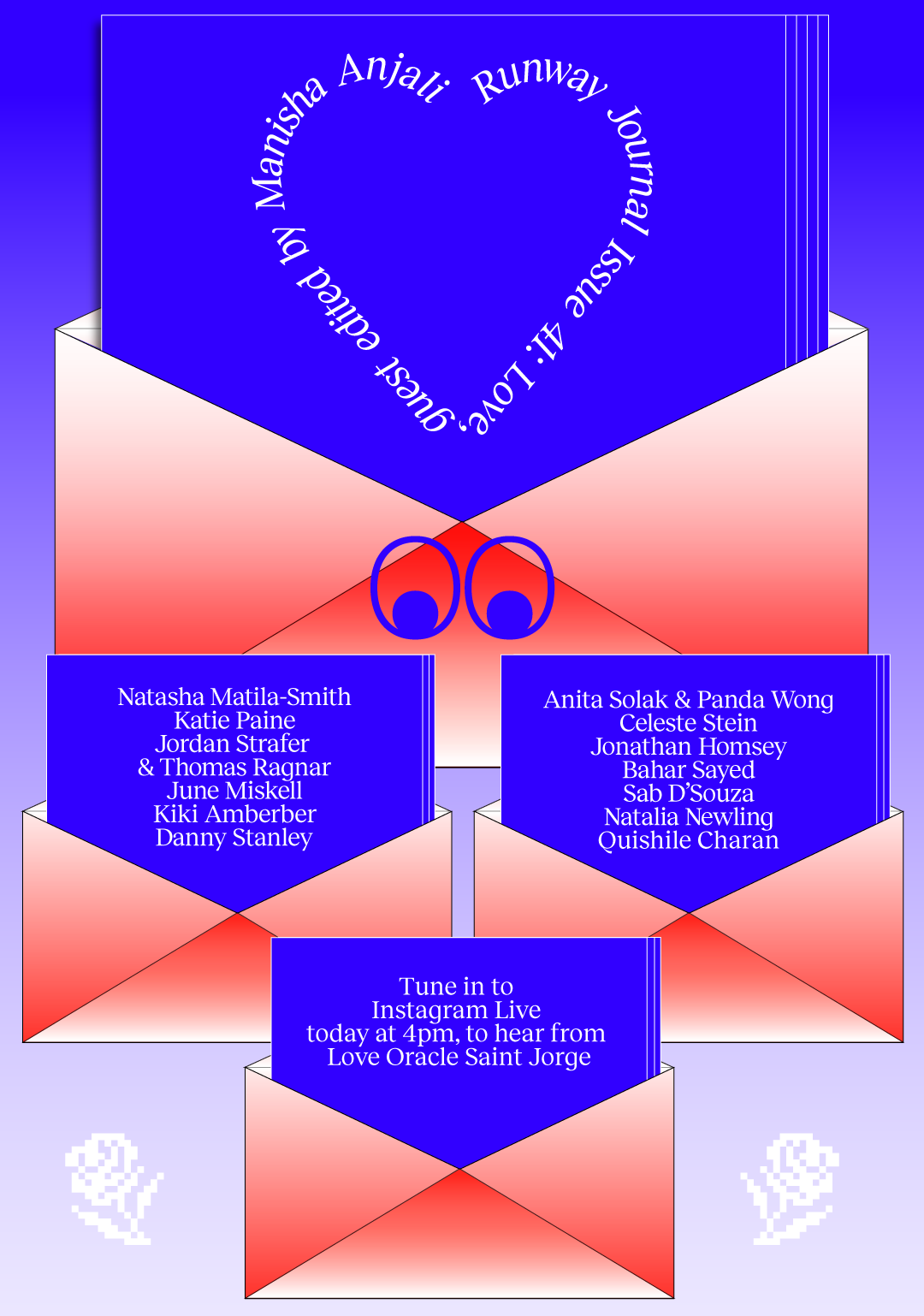 ---
LEXICONS FOR EXPERIMENTAL TYPOGRAPHY, 2019
Publication designed as part of RMIT's Master of Communication Design Experimental Typography Workshop. This publication was designed from a commons researched and created by the class exploring experimental typography.
Supervised by Michael Bojkowski.
PUBLICATION DESIGN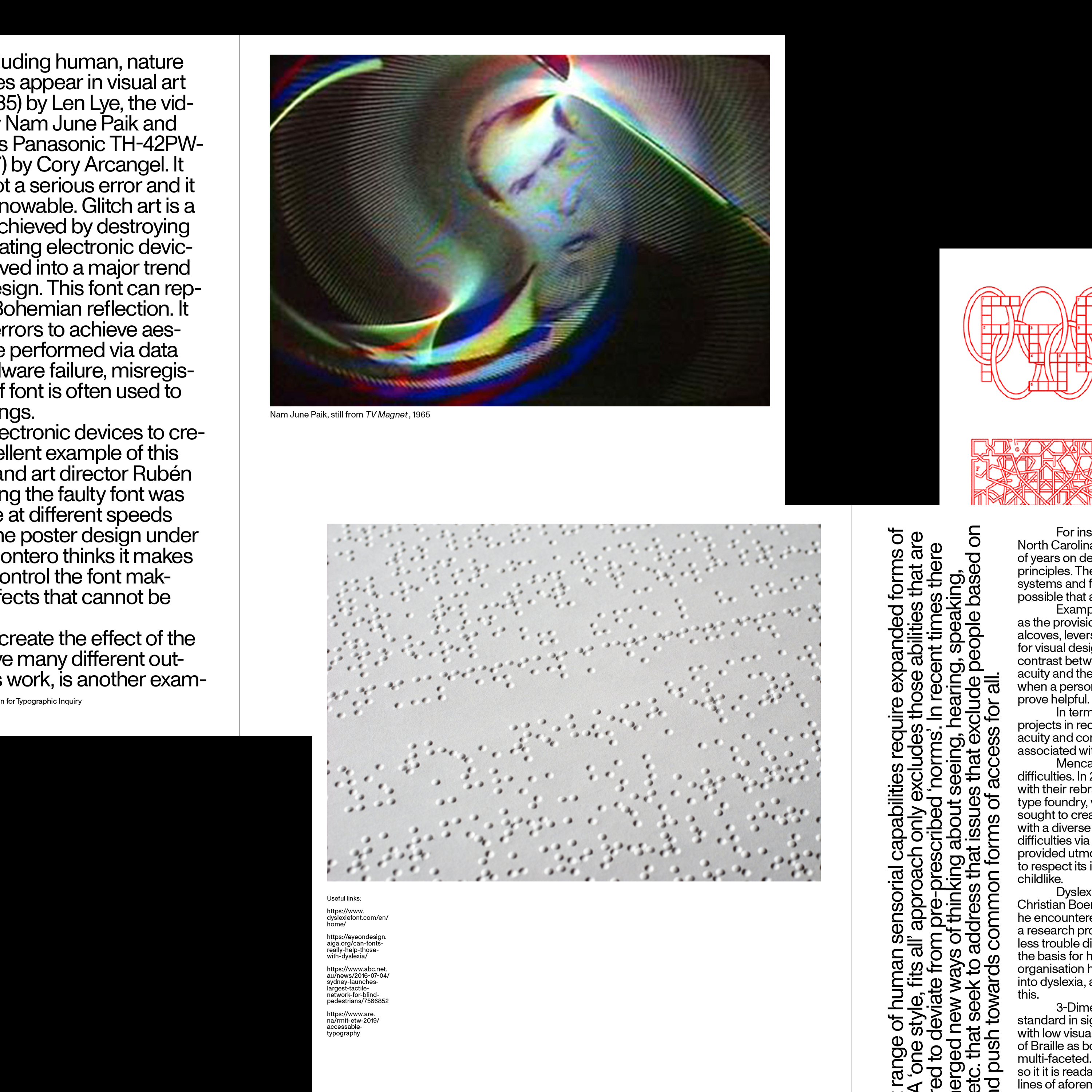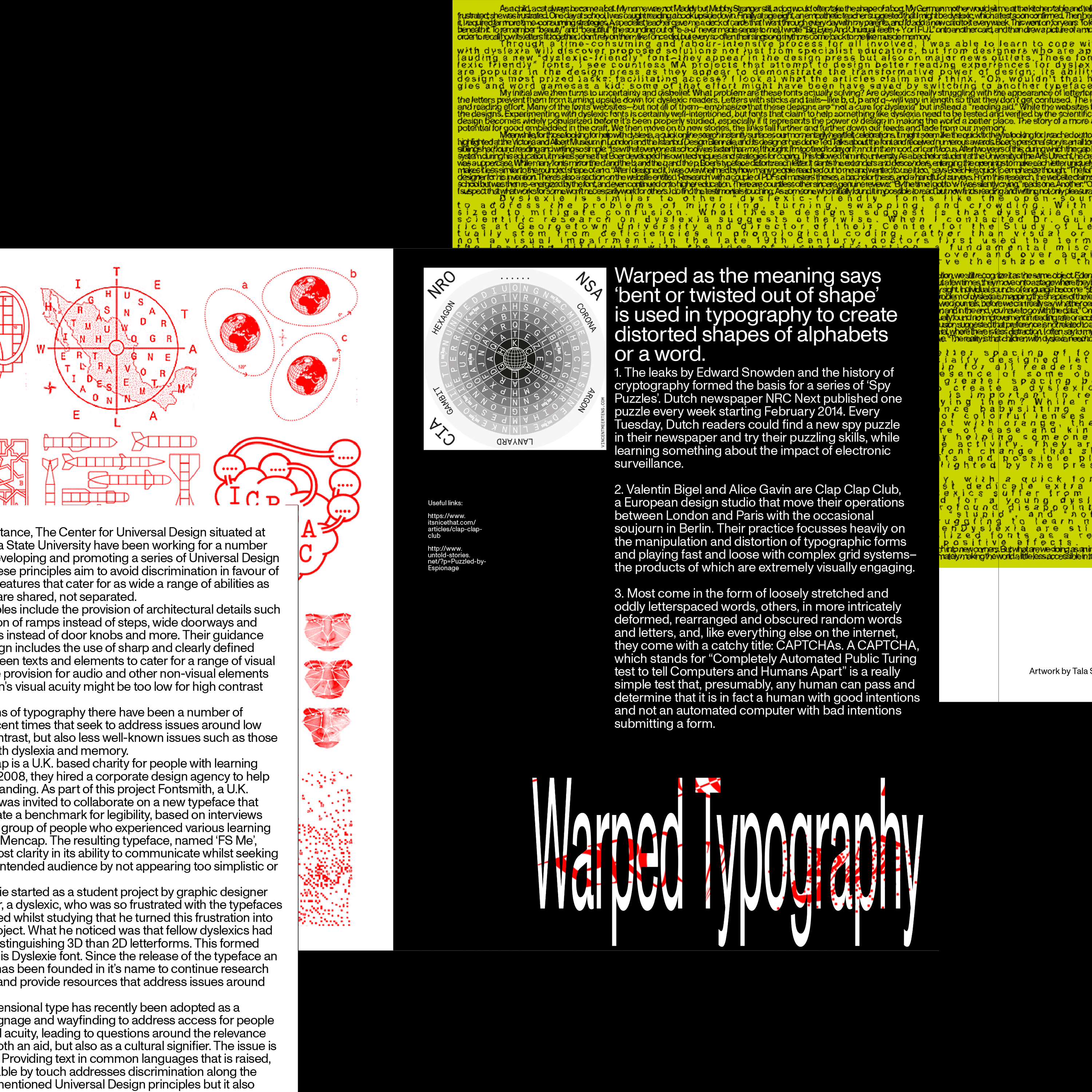 ---